ABOUT THE WINTER INTERNATIONAL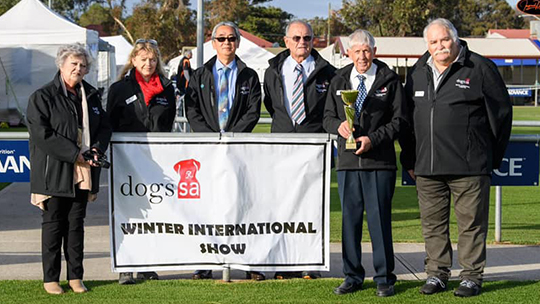 The Dogs SA Winter International Committee is: 
Mrs Pauline Brennan-Lim (Secretary), Mrs Jo Heard, Mr Joy Lim, Mr Barry Tyrell, Mr Lance Heilmann (Chairman), Mr Peter Thompson (Convenor) and Mr David Johnson (Absent).

The Dogs SA Winter International
The Dogs SA Winter International is the Premier Four Day, Four Show weekend in South Australia. The Show is run for Dogs SA by the Winter International Committee. In 2018, the Winter International Committee  ran the first Australian F.C.I C.A.C.I.B. Championship Show under the 2017 ANKC FCI Agreement. This has been followed up in 2022 with the first Asia, Africa and Oceania (A2O) Championship Show. In 2023, the Winter International will be the first show in Australia to be awarding C.I.B. Junior Certificates towards the F.C.I. Junior Champion Title. The international flavour continues with the Saturday Show being a "Cruft's Qualifier".
Combined with 16 Breed Specialty Shows run over the 2023 weekend, it is no wonder that the Winter International has won three consecutive prestigeous Dog News Australia awards for "Australia's Favourite Show". The committee looks forward to welcoming our twelve International Judges to the 2023 event and exhibitors from all around Australia.
Acknowledgement: Homepage Photo courtesy Ingrid Matschke Photography